Magazine Downloads
Showing 49–49 of 49 results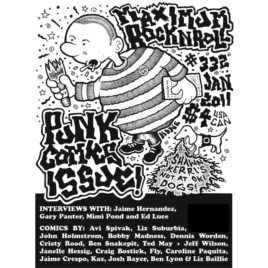 MRR #332/Jan 2011: The Punk Comics Issue! (PDF download)
High quality 128-page PDF download of Maximum Rocknroll magazine, issue #332/Jan 2011, "The Punk Comics Issue!"
Guest edited by Janelle Hessig, this issue features artists Jaime Hernandez, Gary Panter, Shawn Kerri, Mimi Pond, Ed Luce, Avi Spivak, Liz Suburbia, John Holmstrom, Bobby Madness, Dennis Worden, Cristy Road, Ben Snakepit, Ted May and Jeff Wilson, Craig Bostick, Fly, Caroline Paquita, Jaime Crespo, Kaz, Josh Bayer, Ben Lyon, Alex Ratcharge, Liz Baillie, Janelle Blarg, and Eric Hone. What is PICK YOUR PRICE? We are offering PDF downloads at a rock bottom price so punx around the world can afford to buy these classic issues, but if you feel like you can afford a litte more to help MRR continue its mission, please consider using the dropdown menu to pick a higher price, or go to
maximumrocknroll.com/donate
to give even more. Thank you!
$

1.49
Select options