Shop
Showing 25–26 of 26 results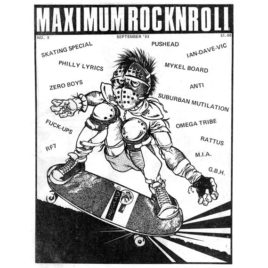 MRR #8/Sept 1983 PDF download
72-page PDF download of Maximum Rocknroll magazine, issue #8 from September 1983
featuring Pushead cover art, BGK, MIA, The Fuck Ups, Mykel Board, RF7, Anti, Zero Boys, Suburban Mutilation, GBH, Rattus, Pushead, JFA, The Faction, "Skate Punk" feature, and a panel discussion with Vic Bondi (AOF), Dave Dictor (MDC), and Ian MacKaye (Minor Threat). What is PICK YOUR PRICE? We are offering PDF downloads at a rock bottom price so punx around the world can afford to buy these classic issues, but if you feel like you can afford a litte more to help MRR continue its mission, please consider using the dropdown menu to pick a higher price, or go to
maximumrocknroll.com/donate
to give even more. Thank you!
$

1.49
Select options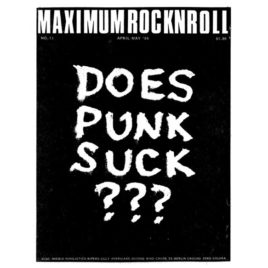 MRR #13/April-May 1984 PDF download
72-page PDF download of Maximum Rocknroll magazine, issue #13 from April 1984
featuring the famous "Does Punk Suck??" article — views on the punk scene with Doc Dart, Frank Discussion, Mykel Board, Stephan and Steve of False Prophets, Pushead, Glen E Friedman, Jack Rabid, Rev. Nørb, Metal Mike and many more! Also featured are the Nihilistics, Wipers, Second Wind, Ugly Americans, Amebix, Crude SS, Colera, and our first Swiss scene report. Read excerpts from this issue
HERE
. What is PICK YOUR PRICE? We are offering PDF downloads at a rock bottom price so punx around the world can afford to buy these classic issues, but if you feel like you can afford a litte more to help MRR continue its mission, please consider using the dropdown menu to pick a higher price, or go to
maximumrocknroll.com/donate
to give even more. Thank you!
$

1.49
Select options