"Two Partied Out?" MRR Radio T-shirt (size XS only)
Based on 1980 flyer artwork from Maximum Rocknroll Radio's KPFA broadcast. It's never too late to join our party: just visit radio.maximumrocknroll.com for the latest and greatest in punk.
You may also like…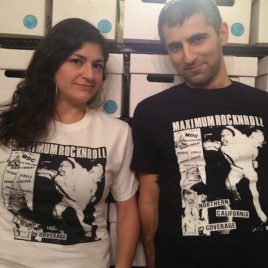 MRR Issue #1 T-shirt
Yep, it's the cover of our very first issue, Maximumrocknroll #1 from July of 1982, slapped onto a t-shirt and stuck in the mail for you to wear around town and get yelled at by jocks and rednecks.
$

15.00
Select options