"Two Partied Out?" MRR Radio T-shirt (size XS only)
Based on 1980 flyer artwork from Maximum Rocknroll Radio's KPFA broadcast. It's never too late to join our party: just visit radio.maximumrocknroll.com for the latest and greatest in punk.
For an extra $3.99 we'll also toss in the FINAL issue of Maximum Rocknroll—that's a dollar off the cover price!
You may also like…
Sale!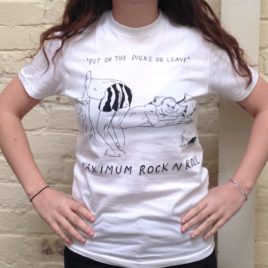 MRR T-shirt by Jess Scott ($5 off!)
ON SALE NOW! $5 OFF!!
Jess Scott should be a familiar name to many Bay Area freaks and punks worldwide, if not for her art—peep the portfolio at 
tellyboys.com
—then perhaps for her output with such ensembles as Flesh World (featured in
MRR #386
), Brilliant Colors, and Index. You already love it, now you get to wear it!
$

10.00
Select options