U.S.
Showing all 13 results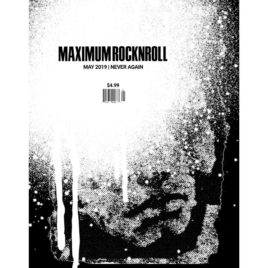 MRR #432 • May 2019 Our Farewell Issue!
Maximum Rocknroll #432, our final monthly print issue, features PIÑÉN, CHRONOPHAGE, PROVOKE, APSURD, Palestinian Solidarity + Punk, Israeli Punk Archive + JARADA, Jesse Ponkamo photo spread, Winston Smith, CIEMO, EXOTICA, Kim Garcia, DREAM NAILS, Faith/Void, Greek photo spread, BUSH TETRAS, DESEOS PRIMITIVOS, SUSAN, THE WORLD, Louder Faster Shorter filmmaker Mindaugas Bagdon, FORRA, KHIIS, Interfaith Works, and a Rio Grande Valley scene report. Cover art by Martin Sprouse.
$

4.99
Select options