magazine
Showing all 3 results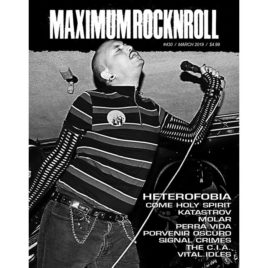 MRR #430 • March 2019
Maximum Rocknroll #430 features Monterrey, Mexico's HETEROFOBIA, VITAL IDLES from Glasgow, THE CIA from LA, Pittsburgh's COME HOLY SPIRIT, PORVENIR OSCURO from NYC via Colombia, Indonesia's KATASTROV, PERRA VIDA from Peru, RIP to San Francisco legend Tom Guido, UK veteran punx SIGNAL CRIMES, MOLAR from the US/UK/Brazil, and a big announcement from MRR! (Details below.)
$

4.99
Select options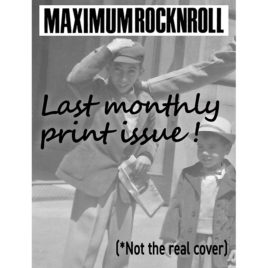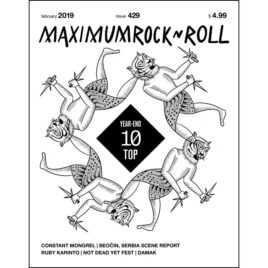 MRR #429 • Feb 2019 • Year-End Top Tens from 2018!
Maximum Rocknroll
#429 is our 2018 Year-End Top Ten Issue! It features tons of top-ten lists, photos from Farrah Skeiky and Angela Owens, Not Dead Yet fest photo spread, CONSTANT MONGREL from Australia, DAMAK from Austin, Canada's RUBY KARINTO, and a Beočin, Serbia scene report. (Details below.)
This issue is also available as a PDF download
HERE
.
$

4.99
Select options