magazine
Showing all 2 results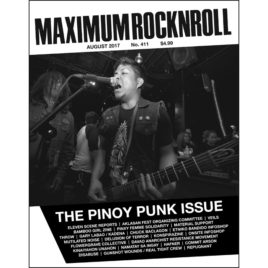 MRR #411 • August 2017
Maximum Rocknroll #411, the Pinoy Punk Issue, features the SF Bay Area's Aklasan Fest, Manila infoshop Etniko Bandido, the Flowergrave Collective, Quezon City's Chuck Baclagon, NYC's Gary Kadena, autonomous spaces and infoshops in the Philippines, Bamboo Girl zine, zinesters elena corinne of Brown Recluse Zine Distro and Honey Andres, MATERIAL SUPPORT and NAMATAY SA INGAY from NYC, Manila's VEILS, THROW, the Bay Area's HAFNER, Filipino grincore, and a massive Pinoy punk scene report. (Details and links below.)
$

4.99
Select options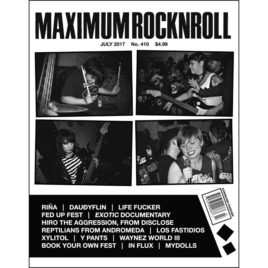 MRR #410 • July 2017
Maximum Rocknroll
#410 features Mexico City's RIÑA, Iceland's DAUÐYFLIN, Olympia's XYLITOL, LIFE FUCKER from Berlin,
Exotic
documentary (Guam), Hiro the Aggression from Japan's DISCLOSE, REPTILIANS FROM ANDROMEDA from Istanbul, Italy's LOS FASTIDIOS, Y PANTS, IN FLUX from Portland, MYDOLLS, Chicago's Fed Up Fest, photo spreads from KC's Waynze World III fest and Olympia's Book Your Own Fest. (Details and links below.)
This issue is also available as a PDF download
HERE
.
$

4.99
Select options