Subscriptions
Showing all 2 results
Subscribe to MRR magazine or renew your current subscription…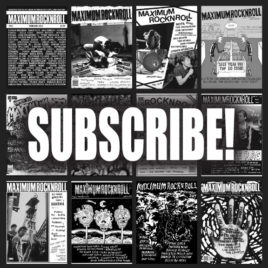 Subscription to
Maximum Rocknroll magazine
Have MRR delivered to you every month. Either pay monthly, contract-free, for the regular $4.99 per issue, or save money by paying for a longer subscription up front! In the US, 6-month subscriptions start at just $26, saving $4 off the cover price — or go for a full year and get $15 off the cover price! Packed in catalog envelopes for careful handling. International subscriptions are sent via Airmail for speedy delivery. With our new Subscription Automatic Renewal Feature, subscribers can see the status of their subscription right on the website! Now when you subscribe, you will be prompted to create an account for our webstore. Through your account, you can update your shipping address, change your payment method, check on the status of your payments, and opt in/out whenever you like. Please note: Your subscription will be automatically renewed unless you tell us to stop. Before the start of each renewal, you will be sent a reminder notice stating the term and rate then in effect. If you do nothing, your credit/debit card will be charged.
$

4.99
/ month
Select options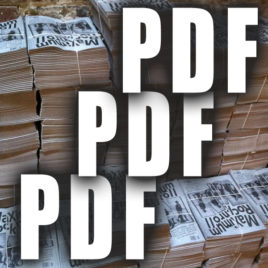 Protected: Maximum Rocknroll PDF Subscription
MRR is now offering PDF subscription service! You can access the latest available PDF download of Maximum Rocknroll in your MRR webstore account page for just $3.99 each month. PDFs are made available just a few weeks after the physical copies of the magazine are sent out. That way, digital subscribers get the download of the magazine just a bit after physical subscribers receive the mag.
$

3.99
/ month
Sign Up Now