2019 Calendar by Sammantha Garcia
Wow, we're so happy to present to you this 2019 Maximum Rocknroll calendar, designed by Sammantha Garcia!! We printed a super limited run, so get one today for you or a friend! They make great gifts for the new year.
24×32 inches, black and white. Price includes shipping in cardboard tube.
You may also like…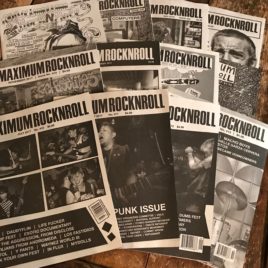 BACK ISSUE BLOWOUT
Limited time only sale! Catch up on your MRR reading with this package deal of issues #410 - #421 for an absurdly cheap price. Great gift for a friend, or bulk up on your collection if you're a recent subscriber. Check out the descriptions of the included issues below! Tons of great interviews and features to keep you up to date on what's been going on in punk internationally.
$

28.00
Select options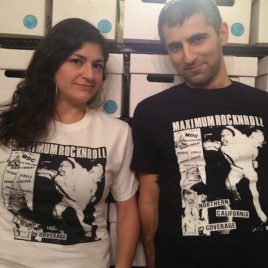 MRR Issue #1 T-shirt
Yep, it's the cover of our very first issue, Maximumrocknroll #1 from July of 1982, slapped onto a t-shirt and stuck in the mail for you to wear around town and get yelled at by jocks and rednecks. For an extra $3.99 we'll also toss in the latest issue of Maximum Rocknroll—that's a dollar off the cover price!
$

15.00
Select options